Its been a wee while since I last did a Mantic update, but those Nottingham boys never rest.  Here is the latest releases, plus a chance to get the limited edition Hellboy paint set!
Great news for  Deadzone fans! The brand new supplement, Command Protocols: Escalation, is shipping now from the website, along with a host of other exciting Deadzone goodness. Just take a look at all the great new products below…
Command Protocols: Escalation is here! After the massive success of last year's supplement, Outbreak, we're back with another game-changing addition to Deadzone.

Escalation is an essential purchase for all Deadzone fans as it includes:
the latest stats for all factions
the latest abilities for all factions
the updated missions
at least one new unit for all factions
brand-new multi mat scenarios
brand-new interactive scenery rules
brand-new mercenary faction
the Volt Chasers sub faction for the Veer-myn
If all that doesn't get you quivering with sci-fi excitement, we don't know what will! Order your copy by clicking the button below…
Escalation isn't the only Deadzone hotness shipping now. Check out the other new releases below….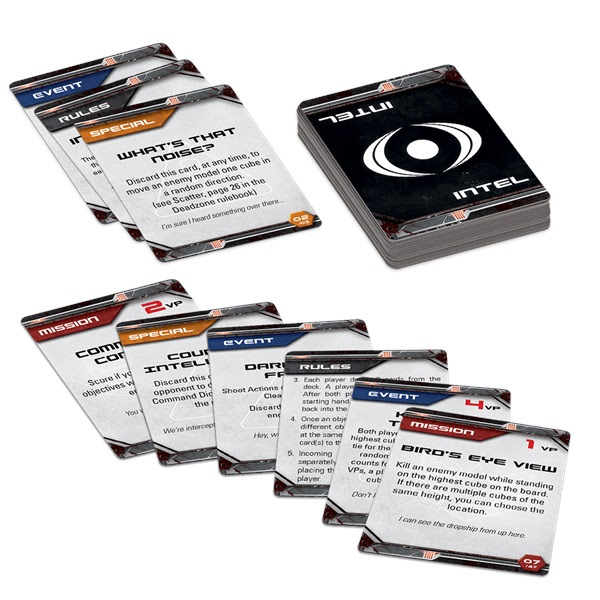 INCOMING INTEL DECK
The Incoming Intel Deck is an exciting new way to play Deadzone. Missions come in on the fly and you'll need to complete them before your opponent.
BOLTS THE GRUNTBOT
Fed up of being bossed around by the larger and more violent Marauders, Bolts built himself a power suit from modified Peacekeeper armour.
STUNTBOT IS BACK!
That's right, after years in the out of print wilderness, the Stuntbot is finally back in production. Grab yours while they last.
VEER-MYN VOLT CHASERS
Fused with the latest technology, the Volt Chasers are a powerful new sub faction. Run them with your existing Veer-myn or on their own.
REBS ALPHA STRIKE TEAM
Led by Shayo Silverback, the Alpha Strike Team is a new faction starter for the Rebs and includes new units like the powerful Simian Brawler.
FEROMITE PRIME
Nameless incursions into GCPS space are continuing and that means new, more horrible species are being encountered all the time.
REBS MONO CYCLE
The Rebs have a need for speed! In the latest Escalation supplement, the Rebs now have the option to take the Mono Cycle as a piece of equipment.
GCPS MONO CYCLE
The GCPS are fast and furious with the Mono Cycle, which can now be taken as a piece of equipment to give your troopers some extra speed.
STAR SAGA BEYOND EIRAS BUNDLE
With all the new content being added to Deadzone, now's a great time to get into Star Saga! Not only do you get a great sci-fi dungeon crawler, you also get the Mazon Labs faction, scenery for the interactive scenery missions and a whole host of mercs.

To celebrate the launch of Escalation, we've put together a very special Star Saga bundle that's only available from the Mantic website.
PRE-ORDER VALLEJO HELLBOY PAINT SET
We're pleased to announce that the Hellboy paint set is now available to pre-order from the Mantic website. Produced by Vallejo, this introductory set includes eight different paints, a guide by master painter Angel Giraldez and a resin version of the Hellboy miniature from the board game. Stock is VERY limited so order yours now.
Please remember that June is PTSD awareness month.
If you are a veteran and are looking for help, please check out these links HERE.
For more help and information please visit Trauma Dissociation by clicking the logo below
If you are concerned about a loved one or yourself and need advice please visit this LINK or call 0808 159 8161