News just in from Mantic Games and the announcement of the third edition of the very popular Kings of War.
From the Press Release
KINGS OF WAR THIRD EDITION IS COMING!
Just in case you haven't heard the very exciting news already, this week we announced that Kings of War Third Edition will be released this October. You can read Ronnie's introduction here, but the main highlights are:
380-page book with lots of expanded lore
released direct to retail, so no Kickstarter
army lists for 14 factions
follow-up supplement with 12 more armies released in early December
We'll be revealing lots more Kings of War Third Edition info over the coming weeks and months, so keep an eye on the Mantic Blog and social media.
TRIDENT REALM NEW RELEASES
A mix of aquatic species, the Trident Realm are the stalwart protectors of the many waterways crisscrossing Pannithor. In Vanguard, their warband excels at fast-paced combat and special abilities that help control the battlefield. Plus, they have a massive toad on their side – which is always a bonus.

The Trident Realm is the latest Vanguard release to get the full warband treatment, with new cards, new units and revised stats. Learn more about the Trident Realm in our faction overview and check out the new releases below.
The easiest place to start with the Trident Realm releases is with our special website-only Trident Realm Bundle. With just one click, you get all the new miniatures, plus a bonus Naiad Envoy.
TRIDENT REALM WARBAND SET
Led by a powerful Naiad Centurion and accompanied by a Thuul Mythican, the Trident Realm warband is fast-paced and hard-hitting.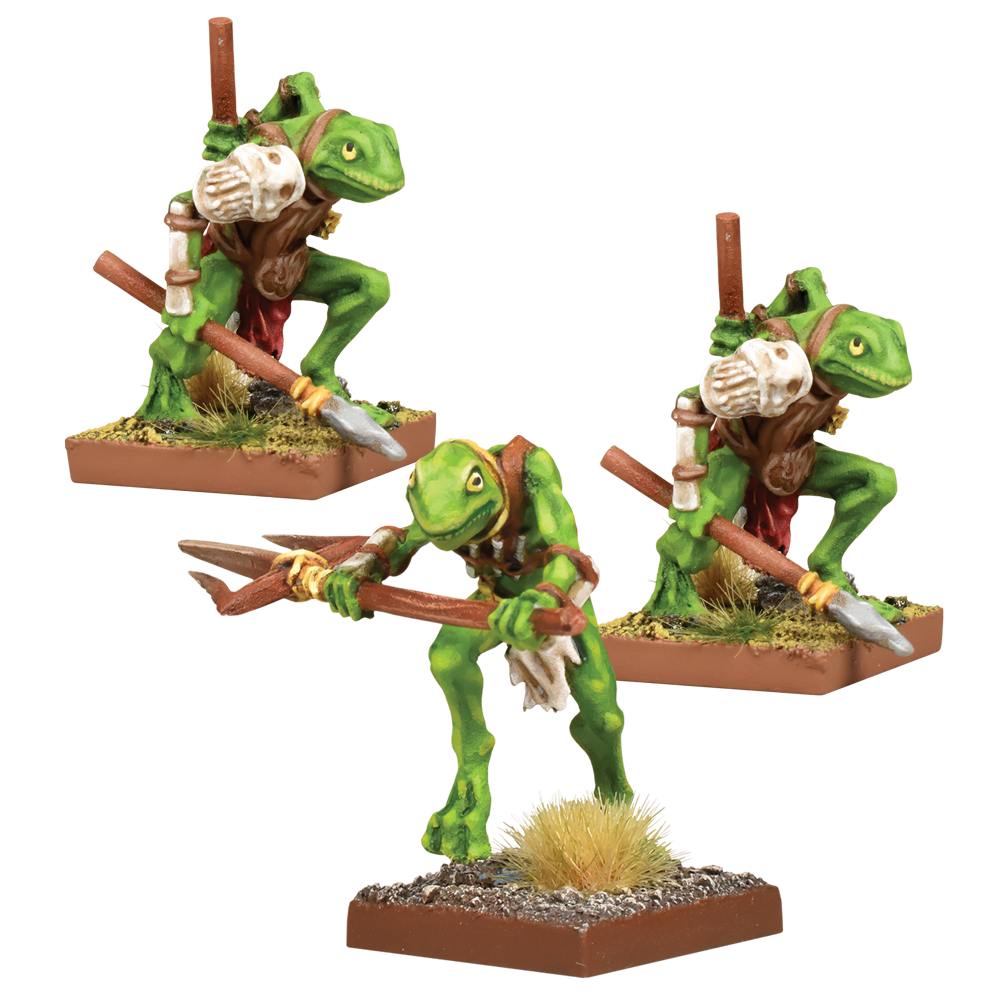 RIVERGUARD SUPPORT PACK
Along with the Naiads, the other main unit in a Trident Realm warband is the Riverguard. These agile fighters can leap over enemy lines.
RIVERGUARD DAMBUSTER
These giant amphibians are tremendously strong; able to leap over dam walls and lay waste to their defenders with ease
PLACODERM DEFENDER
Fishmen warriors covered in tough, natural, scale mail, Placoderm Defenders are stoic champions, able to hold back foes single-handedly.
GIGA
The deadly pincer-like claws of these mighty crustaceans can easily crush and slice through even the thickest plate armour.
WATER ELEMENTAL
When the wrath of the Neriticans is roused, the anger of the waves manifests as violent and powerful Water Elementals.