Here is my look at the latest issue of Age of Sigmar: Mortal Realms from Hachette Partworks, in conjunction with Games Workshop.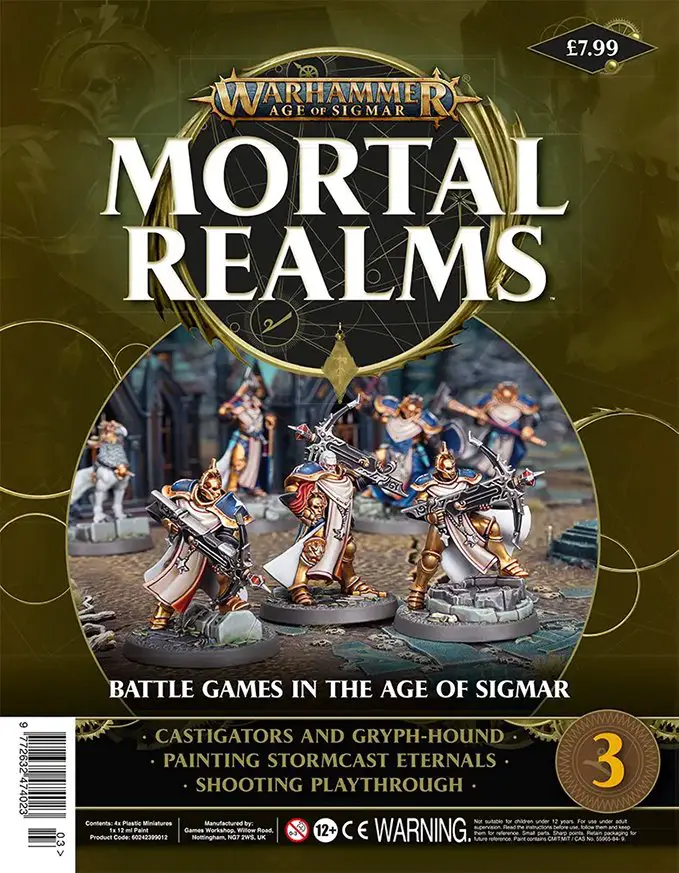 Issue 3 comes with 4 easy-to-build Castigators with Gryph-Hound and Retributor Armour paint.
The magazine looks at the Castigators and gives more background on Nagash Lord of the Undead and shows you how to assemble your Castigator miniatures.
The Castigator models are all armed with extremely large ballistars that look way to big to be carried by hand, but then again these are otherworldly beings.  Each is a push fit and they go together a lot easier than the push fit Stormhost models from Issue 1.  The unit is made up from three models and a Gryph-Hound and each has a ready sculpted base which the models just slot into.
Topping off the issue is a pot of Retributor Armour paint that is one of the best gold paints for painting miniatures there is on the market.  This paint covers really well and looks more brass than gold, but once its been washed with inks it really takes on a life of its own.
Overall another great-looking new magazine that will help introduce new gamers to the hobby and once again well thought out and executed by Hachette Partworks!
Looking ahead over the next few weeks we find:
Issue 4 comes with 4 easy-to-build Glavewraith Stalkers, Nihilakh Oxide paint and battle mat.
Issue 5 comes with  a unique miniature to this magazine Xandra Azurebolt for the Sigmar faction .
I plan on covering each issue in the same way as I did with Conquest but will try to go more in-depth with my weekly written reviews.
You can check out the official website at the link below!
To coincide with the release of Warhammer Age of Sigmar: Mortal Realms, I have a copy of Issue One to give away for free.
To be in with a chance to win your copy of this magazine, simply like the post and follow Gamers Web on YouTube at the link above and leave a comment on the video.  The winner will be chosen at random on February 14th and will be announced in a future video as well as on Facebook and Twitter.