In board games and table top games, its normally the good guys who are the main focus, from knights to space marines, they often get the limelight of attention, while the orcs, evil wizards and such are shunned to the background.
Recently Mantic Games set out to change all that with their Kickstarter for League of Infamy, a game which the bad guys are the heroes for a change and the campaign was very successful, but some of us may have missed out.  Well if you did miss out, fear not as Mantic have just announced late pledges for League of Infamy will be open till April 6th!
From the press release
Did you miss out on the original League of Infamy Kickstarter? Well, we're delighted to announce that late pledges are now available for the co-operative dungeon crawler where YOU get to be the villains. With the Master of Shadows pledge, you'll save around 50% on the RRP and get 127 miniatures – including some mighty bosses.
However, if you're still on the fence, have a read about some of the reasons why YOU should jump on board the late pledge option.
IT'S GOOD TO BE BAD!

Ever wanted to shoot an elf in the face with a fireball? What about looting a Halfling's packed lunch? Perhaps you've always fancied stealing treasure from under the nose of a Elf Lord on Drakon? Well, League of Infamy gives you the perfect excuse to be as bad as you want! Loot the sanctuary! Take out pesky elves! Steal things from your fellow players! It's all possible in the League. Just take a look at this quote from a player…
LOADS OF REPLAY VALUE!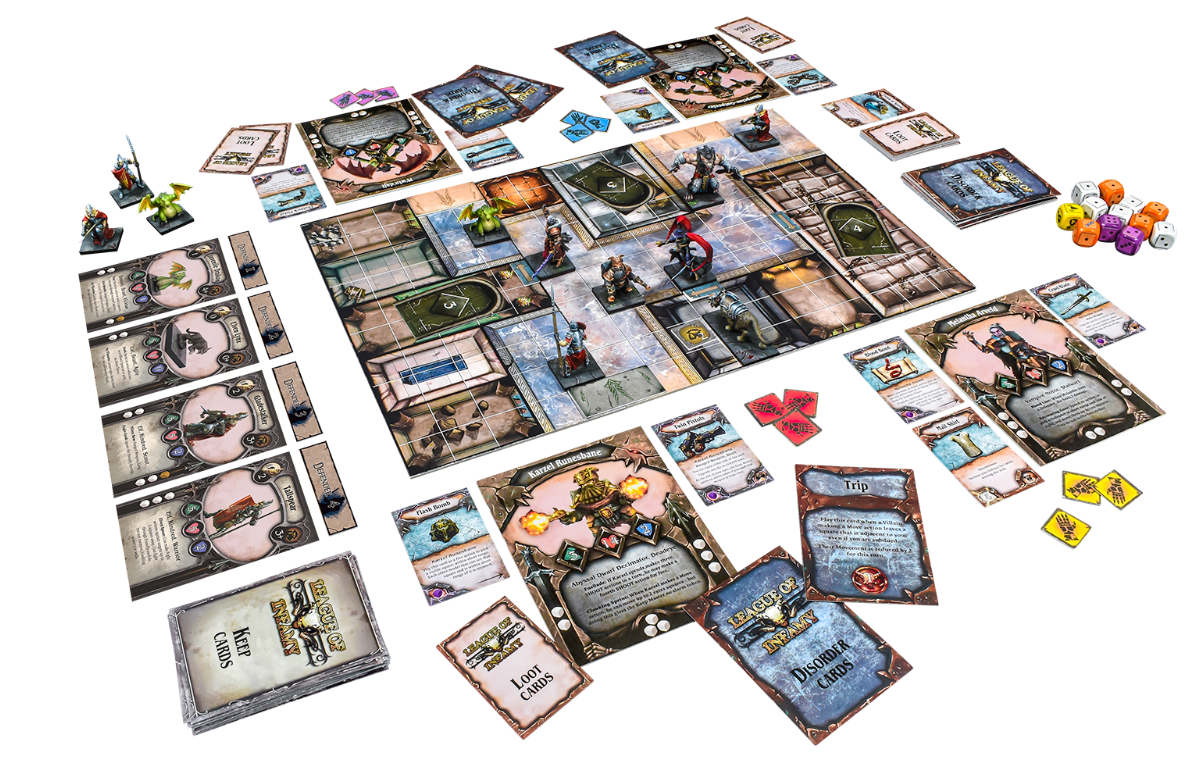 Each of the scenarios can be replayed time and time again. No missions will ever be the same, thanks to the Keep Deck, which randomly generates special actions for the Keeper, the Chamber Cards, which randomly generate the contents of rooms and the huge range of playable Villains.
Plus, as the dungeon master (aka Keep Master) learns how to play the game, they'll be able to customise their dungeon layout with extra defences or choose any of the available Defenders in their arsenal. Want to team up the elves with The Herd? Go for it! What about adding some Trident Realm Placoderms to your squad. Not a problem! Each of the scenarios can be played multiple times with very different results.
WATCH YOUR CROOKS BECOME SUPER VILLAINS
When playing in a campaign your Villain will learn amazing new abilities and discover new weapons or armour. Each of the Villains has a special keyword that allows them to learn certain skills and abilities. Choose your new upgrades as you earn XP during a campaign and carve a villainous path for your chosen character.

PLAY CO-OPERATIVELY WITH UP TO FOUR PLAYERS
Fed up of always being the dungeon master? The Unseen Keep Master provides an artificial nemesis for you to play against. Up to four players can all take on the role of a Villain, as they go up against the goody-goody elves.
AMAZING (NOT SO) MINIATURES
Fantastic, plastic, assembled miniatures in the same incredible quality PVC plastic as Hellboy: The Board Game. Or, if you prefer your heroes/villains in resin, we've added the option to buy a great selection of miniatures as optional extras. We've also got singles available for units that are currently (or will become) units in Kings of War or Vanguard too. Like the mighty Knucker and Halfling Iron Beast.
Late pledges  are available until April 6th and make sure you subscribe to our YouTube Channel to see the new gameplay videos coming up soon!