Atomic Mass Games is taking the Marvel Crisis Protocol fight to the stars with its latest releases and will make all things balanced as they should be!
Following on from the release of Star-Lord, and Rocket and Groot expansions in late March, Atomic Mass Games and parent company Asmodee had to put the breaks on releaes for April and into May, it finally seems like things are getting back on course and several traders have posted details of the new cosmic releases due out in May and June and into July.
First up is Ebony Maw and Black Dwarf, who will join the recently released Corvus Glave and Proxima Midnight as the Black Order faction.
Ebony Maw is a very powerful character who has amazing psychic powers which he uses for his master Thanos and has the highest defense value in the game so far with a musical defense of 6!  He is a pretty nasty character on the table but if you add Black Dwarf to your roster he becomes a real force to be reckoned with.
Black Dwarf is a huge and imposing model that towers even over the Hulk miniature and is the largest miniature in the range so far.  He has one job and that is to destroy things and with his impenetrable skin he will not be an easy target to take down.  Often acting as a bodyguard to Ebony Maw, Black Dwarf is a tank in the truest sense of the word!
Drax the Destroyer and Ronan the Accuser are the latest addition to the Guardians of the Galaxy faction, bringing with them a host of options for use in game play and expanding the roster out.  Drax is deadly in close combat and Ronan brings with him the justice of the Kree Empire!
The Cosmic Terrain Expansion is the second set to feature some great ways to make your games of Marvel Crisis Protocol rally pop visually and looks like a Jack Kirby comic panel has come to life. The expansion features several large terrain pieces that can be assembled in a variety of ways and some of these are really large giving us some of the biggest terrain in the game yet.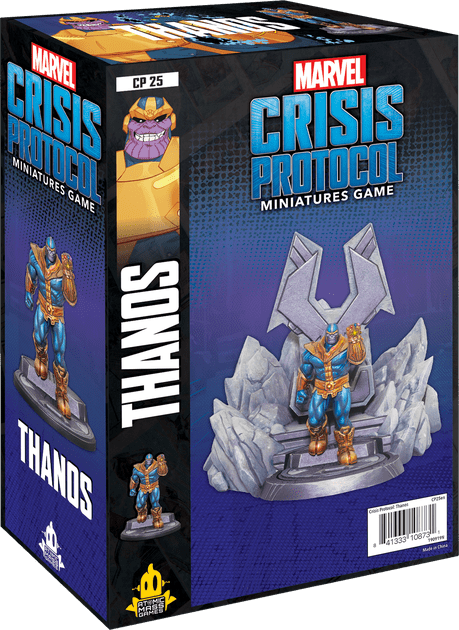 And we finally get more details on the Mad Titan himself, Thanos!  This is a beast of a model that comes with hand options, including the infamous Infinity Gauntlett, two bases, one of which is the huge throne and loads of cards for use in play, including all six Infinity Gems.
Thanos also comes complete with a printed Ultimate Encounter rulebook that offers a unique way to play Marvel Crisis Protocol, with one player controlling the Mad Titan and two others trying to take him down!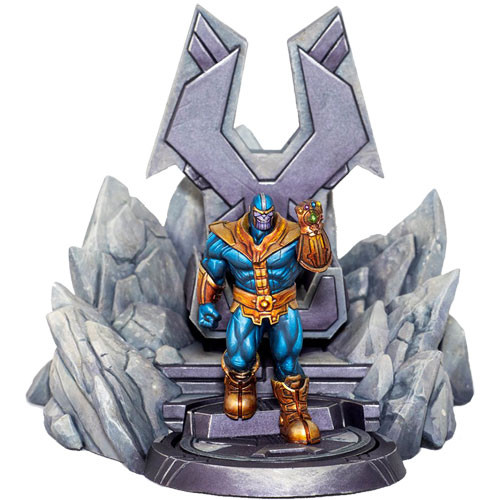 Add to this the all-new Cosmic play mat and we are going to have some totally epic battles in the near future.
But the Cosmic models are just the tip of the spear as Atomic Mass Games have a whole load of new models coming out in the next few months (Covid-19 permitting naturally), which include Ghost Rider,.Taskmaster and Punisher, a construction site terrain set, Daredevil and Bullseye and one of my very favourite comic book characters of all time Kingpin.
Keep your eyes open for more information and Gamers Web highly recommends pre-ordering these excellent miniatures while you can and our choice is our good friends at 6s2Hit who offer huge savings on all preorders.
Support your local games store and Gamers Web strongly recommends our good friends at 6s2HIt, one of the best independent stockists in Scotland!
And visit 6s2Hit for loads of great gaming products under one roof.
https://www.6s2hit.com/
Images copyright Atomic Mass Games/6s2Hit all rights reserved