The one thing that really makes a game pop is good terrain! Sure you can play on a cardstock mat and it looks okay, but there is nothing quite as good as seeing your excellently painted miniatures come to life on a great games board filled with those odd little quirky details that make it stand out.  The guys at Mantic Games have just put these amazing terrain pieces up for preorder and they look awesome and will really add to games of The Walking Dead or even other games such as Batman or Marvel Crisis Protocol!
From the announcement
The apocalypse is almost here – and no, we're not just referring to 2020. In just over a week the new range of modern, post-apocalyptic TerrainCrate scenery will be shipping from the Mantic website. In the range you'll find everything you need for modern skirmish games, including a mall, abandoned factory, hospital, office and campsite. Of course, they're all perfect for The Walking Dead but they're also great for a whole bunch of other games too. Pre-order now, using the link below, or read on to find out more…
PRE-ORDER TERRAINCRATE
CITISCAPE
The sprawling urban areas of cities play host to many stories and conflicts. From deserted post apocalyptic ruins, to contemporary criminal skirmishes, in this set you'll find the furnishings for offices, warehouses, shops and malls. A huge variety of pieces to fill any built up area!
QUICKI-MART
Your friendly local convenience store! A welcome stop on a lengthy journey, or a source of scarce supplies in a post apocalyptic world. This shop is complete with shelves, counters, till and even removable items of stock that can be stacked on display!
Warehouses are ideal sources of shelter and supplies after the world has ended. They can also play host to anything from clandestine corporate conspiracies to illegal arms trade and mafia deals. This set includes a wide range of scenery to populate these grimy locales, even including a weapons locker and a furnace.
COMPATIBLE WITH HERE'S NEGAN: THE BOARD GAME!
Depending on your game, a hospital can be either a safe haven or a creepy labyrinth. Is this a stronghold filled with valuable medical supplies, or a locked-down prison for the deranged and macabre? This set contains beds, body bags, surgical tables, and more that would suit any hospital setting from the late 20th century to the modern-day!
CRYSTAL PEAKS CAMPSITE
Whether it belongs to wayward teenagers ignoring the warnings about the local forest, or experienced explorers in inhospitable climates, this well-equipped campsite comes with both intact and destroyed supplies and tents for your characters.
Pre-Order CRYSTAL PEAKS CAMPSITE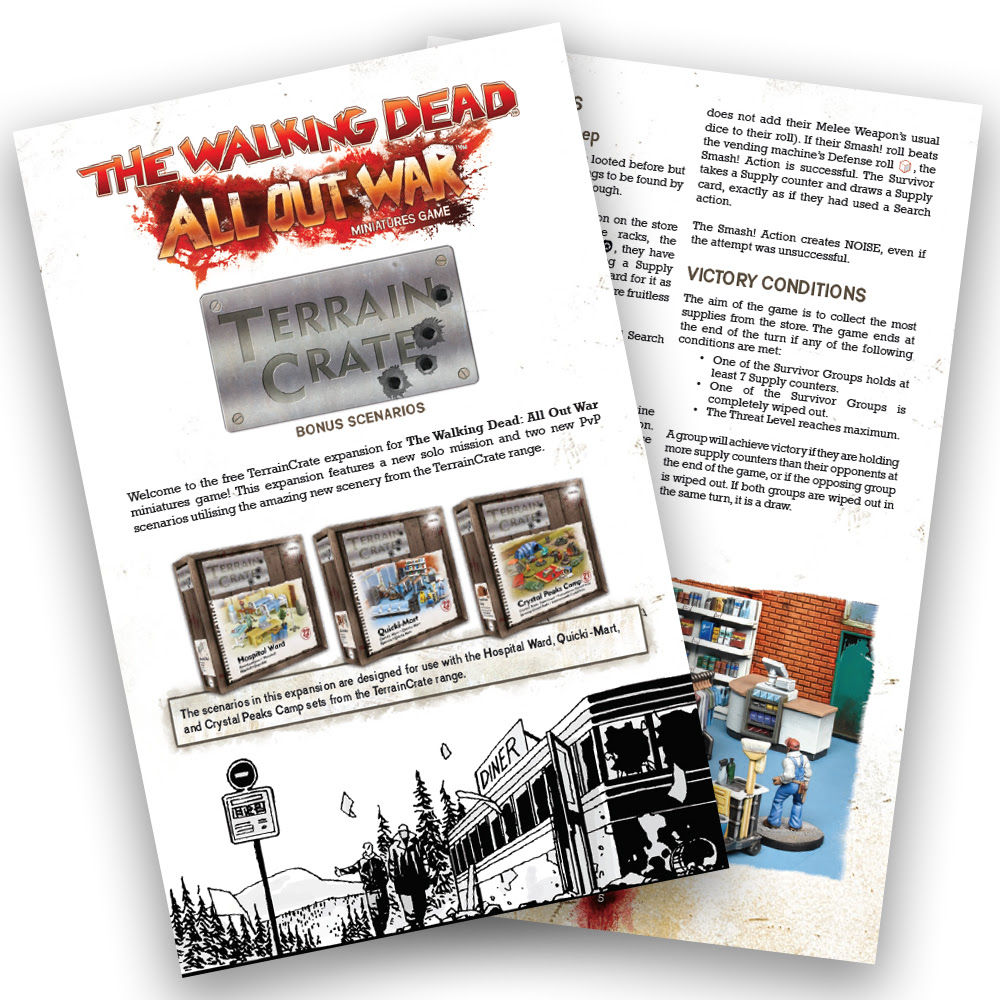 FREE WALKING DEAD SCENARIOS!
To celebrate the impending TerrainCrate apocalypse, we're offering some brand-new scenarios for The Walking Dead: All Out War that use the Hospital, Quicki-Mart and Crystal Peaks Campsite TerrainCrate sets. You can download them for free here!