While in space nobody can hear you scream apparently, down here on planet Earth the good news is that our good friends at Modiphius Entertainment are now stocking the excellent Alien Roleplaying Game from Fria Ligan (Free Publishing)This Ennie award winning games is one of the best looking products of the past few years and plays like a dream and now is your chance to pick it up again.
From the Press Release
Today we're delighted to announce the release of two brand new products for Free League's awesome ALIEN RPG, a brand new Starter Set providing everything you need to get going in the game, plus the mission book, Destroyer of Worlds which casts you as a squad of Colonial Marines!
The ALIEN RPG Starter Set is available in 
physical
 and 
PDF
 formats and ALIEN RPG Destroyer of Worlds is also available in 
print
 and 
PDF
 on Modiphius.net. Here are the details on these fantastic new releases.
This is a starter set for the official ALIEN tabletop roleplaying game—a universe of body horror and corporate brinkmanship, where synthetic people play god while space truckers and marines play host to newborn ghoulish creatures. It's a harsh and unforgiving universe and you are nothing if not expendable.
This boxed set contains everything you need to start playing:
A 104-page rulebook with a fast and effective ruleset designed specifically to support the core themes of ALIEN: horror and action in the cold darkness of space.
The 48-page complete scenario Chariot of the Gods by sci-fi novelist Andrew E.C. Gaska, taking you on a thrilling, terror-filled ride into deep space where no one can hear you scream. Chariot of the Gods is designed for 3–5 players plus the GM.
Five pre-generated characters to play.
A huge full-color, double-sided map, with one side depicting chartered space in the year 2183 and the other floor plans for the Chariot of the Gods scenario.
84 game markers for keeping track of characters, motion tracker pings, and more.
56 high quality custom cards for weapons, personal agendas, and initiative in combat.
A set each of ten engraved Base Dice and ten Stress Dice, designed specifically for the ALIEN roleplaying game.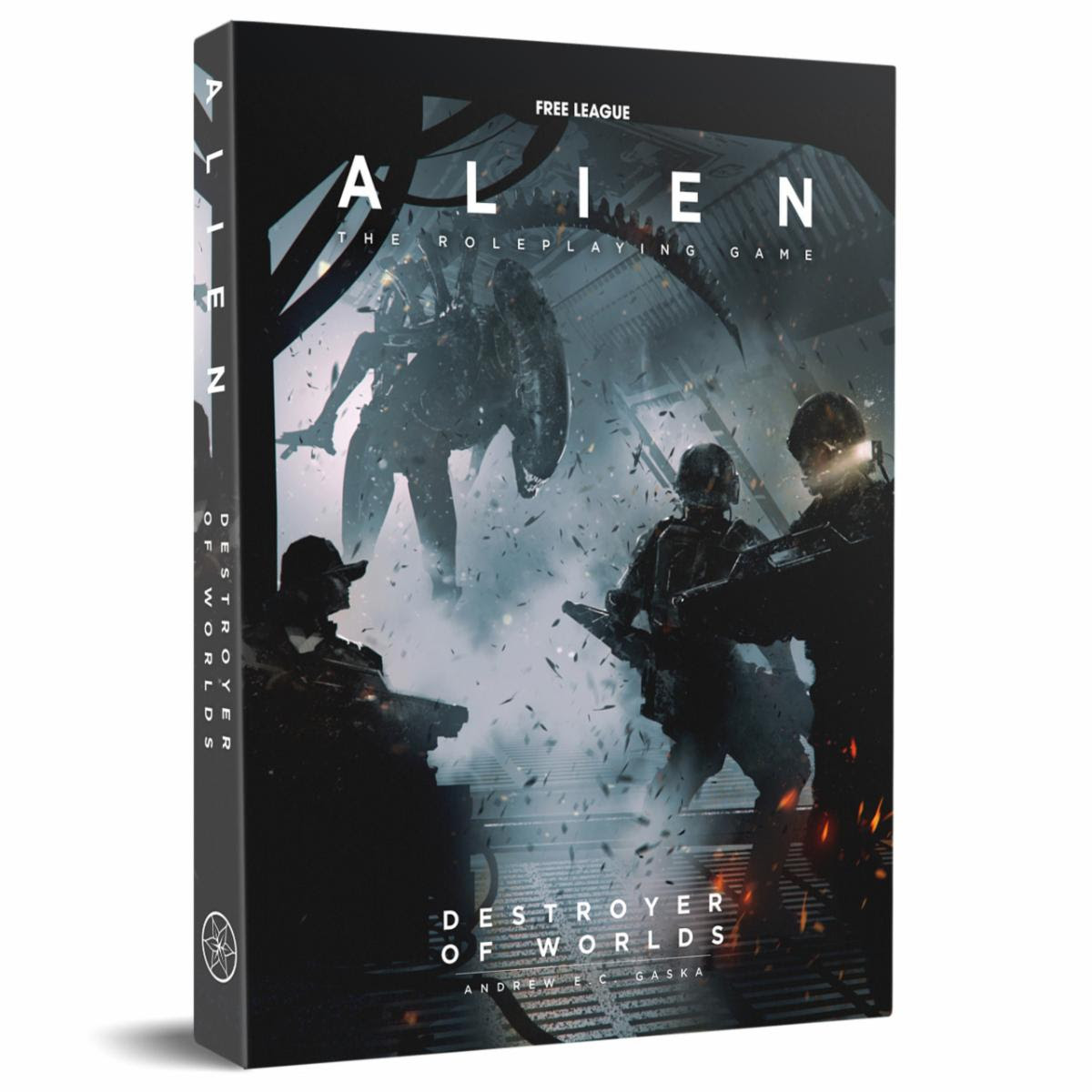 "Yeah, the mission was supposed to be a simple manhunt. Instead it turned out to be just another glorious day in the corps."
Destroyer of Worlds is a complete Cinematic Scenario for the ALIEN roleplaying game, written by sci-fi novelist Andrew E.C. Gaska. In Destroyer of Worlds, players take the roles of Colonial Marines. The scenario is designed for 3–5 players plus the Game Mother, and it's a gauntlet of one hell after another. Expect it to take three sessions to complete. This boxed set contains:
The main Destroyer of Worlds scenario book.
A huge double-sided map (format 864x558mm) of Ariaricus colony on one side and the Fort Nebraska space elevator ground base on the other.
Five pre-generated characters to play.
Custom cards for weapons, vehicles, and personal agendas.
Player maps and handouts.